About Us
Roanoke, VA Dentist
Your Roanoke, Daleville, and Vinton dentists at Cross, Lavinder, Quinn, & Park Family Dentistry strive to bring both the technology and amenities of a big city practice with a small town atmosphere and hospitality. Please meet our award winning team that works hard to exceed your expectations. We are committed to providing you with excellent quality dentistry in a comfortable environment. You deserve a skilled, experienced dental care partner like Cross, Lavinder, Quinn, & Park Family Dentistry to ensure you achieve and maintain great oral health and a beautiful smile for years to come.
Griffin Cross, DDS
Dr. Griffin Cross is a Salem native and graduate of VT and Medical College of Virginia.  He is also a member of the International Congress of Oral Implantologists. Dr. Cross has been awarded 'Top Doc', Best Chairside Manner and Best Dentist for multiple years in local polls. Providing exceptional care to all ages, Dr. Cross will gladly see patients in the Roanoke and Daleville locations.  He enjoys soccer and water sports at Smith Mountain Lake. He resides in Salem with his wife Ashley and 3 sons.


Lisa Lavinder, DMD
Dr. Lisa Lavinder is a native of Roanoke, VA. She obtained her B.S degree in Biochemistry with a minor in Chemistry from Virginia Tech. In 2006 she graduated from University of Pennsylvania School of Dental Medicine. After dental school, she completed an Advanced Education in General Dentistry residency program at Virginia Commonwealth University. Through this program, she spent an entire year focusing her training in cosmetic dentistry, restoring implants, and creating removable and fixed prosthodontics (crowns, bridges, dentures and partial dentures) for her patients. She has volunteered in dental projects such as Mission of Mercy in Wise, VA, and has worked at the Botetourt Free Clinic. She was awarded "Best of Botetourt' several times in local polls. She enjoys working with both children and adults. In her free time she enjoys running, snow skiing, hiking, fishing, painting, and traveling with her husband and 3 children.


Stephen Quinn, DDS
Dr. Stephen Quinn, a Roanoke native, is a graduate of Roanoke College and Medical College of Virginia.  He resides in Roanoke County with his wife and children.  He enjoys all types of outdoor activities including fishing and backpacking.  His gentle and caring manner has helped him achieve 'Best Dentist' in local polls.


Adam Park, DDS
Dr. Adam Park provides gentle and expert care, treating his patients like he would his own family. He was born and raised in Alexandria, Virginia. He received an engineering degree from Virginia Tech and his Doctorate of Dental Surgery from Medical College of Virginia. Dr. Park owned and operated a cosmetic and family practice in Northern Virginia for several years before he and his family moved to the Roanoke Valley.  Dr. Park enjoys spending many hours above and beyond national requirements to further his knowledge in dentistry, including cosmetic dentistry, sleep training, study of the TMJ, Laser dentistry, occlusion, implants, root canals, and much more. Dr. Park looks forward to exceeding your expectations.


"I wanted take a minute and thank you and your assistant for the job that you completed on my root canal. I have never had a root canal, up until this point in my life. I was anxious about having it done, but I wanted to keep my teeth. Thanks for explaining what could be done, and helping me get through it. I could not be happier with the attention to detail that you both gave. I look forward to getting my teeth back to a healthy state."

Patient of Dr. Park
Fred Coots III, DDS
Dr. Fred Coots III, a Roanoke native, has been a dentist in the valley for 25 years. He is a graduate of Roanoke College and the Medical College of Virginia and he is an active part of the dental community. He enjoys being a dad, flying airplanes, and mentoring students in both Dentistry and Aviation. When not in the office, Dr. Coots is an avid reader, gardener, and very amateur chef.
Scott Ward, DDS
Dr. B. Scott Ward is a native of Dublin and resides in Botetourt County with his wife and three daughters.  He is a graduate of Virginia Tech and Medical College of Virginia.  He enjoys fishing, hunting, and recreational league softball.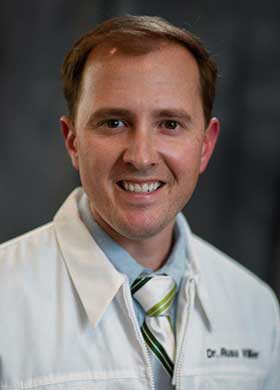 D. Russ Villier, DMD
Dr. D. Russ Villier brings quality compassionate care to all of our patients primarily at our Daleville office. Dr. Villier is a Louisville, Kentucky native calling the Roanoke Valley home since 2014 with his wife, daughter, and son. Dr. Villier attained his B.A. from Hanover College before earning his D.M.D. at the University of Louisville School of Dentistry. When not practicing dentistry you can find him hiking on a trail, paddling on the cove, or driving on the Parkway.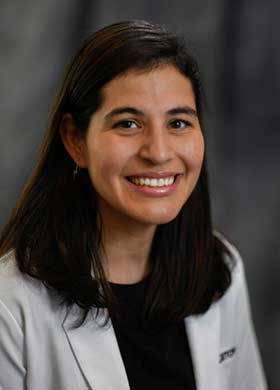 Eugenia Larrowe, DDS
Dr. Eugenia Larrowe is a native of Costa Rica but has made Virginia her home for the last 18 years. She earned a bachelors' degree in health promotion from Liberty University and a masters in education in health promotion from Virginia Tech. She completed her dental education at VCU in Richmond, VA. Upon graduation, she returned to Galax where she practiced for four years before moving to the Roanoke area.
She currently resides in Daleville with her husband and their two children. In her spare time, Dr. Larrowe enjoys traveling and spending time with family.


Sandy Chacko, DMD
Dr. Sandy Chacko grew up in Tampa, Florida and attended the University of South Florida. She then moved to the northeast where she attended dental school at Boston University. After graduating from dental school, she completed a general dentistry residency program in New York. Dr. Chacko and her husband, a local eye surgeon share a passion and commitment to serving others. In her free time, she is busy with her young children. After moving here about a year ago, she has enjoyed making Roanoke home. As the newest member of the team, she looks forward to meeting your dental needs with care and compassion.
Brittany Wood, DMD
Dr. Brittany Wood was born and raised in Roanoke. She obtained her biology degree at the University of Virginia and then attended Tufts University in Boston, MA to complete her dental degree. After several years practicing in New England, Dr. Wood is excited to return home to the Roanoke Valley. She is looking forward to connecting personally with her patients to help them achieve their dental goals. While she is not in the office, she enjoys spending time outdoors with her husband, traveling, and trying new cuisines.
Elizabeth Neal, DDS
Dr. Elizabeth Neal grew up in Danville, Virginia and knew early on she wanted to be a dentist. She moved to Richmond, Virginia where she obtained Bachelor of Science and Doctor of Dental Surgery degrees from Virginia Commonwealth University. From there, she attended a general practice residency at Akron City Hospital in Ohio to further her skill set. Dr. Neal has been in the Roanoke area since 2013 and is happy to call the region home. She is a past president of the Roanoke Valley Dental Society and enjoys working closely with area specialists to provide optimal care for her patients. When not in the office, Dr. Neal loves spending time with her husband, two sons, and two dogs.